GP16 & GP16M
Picnic table made of recycled plastic for the schoolyard.
Unlike ordinary mini picnic tables, seat and table top are always fully rounded for extra safety!
Seating is 25 cm wide. To be placed on a flat surface. Anchoring is not required. Table top with hole for a parasol.
GP16 : beige seats and table top
GP16M: multicolor seats and table top
GP18 = identical to the GP16 "mini" but is longer (180 cm in stead of 120 cm)
Also available in multicolor GP18M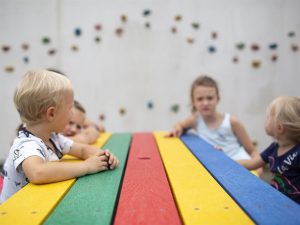 GP16 MULTICOLOR VERSION
GP16 : 120 x 131 x H55 cm, +/- 73 kg
GP18 : 180 x 131 x H55 cm, +/- 110 kg
It can be installed without anchorage on a stable and solid surface.
The table is supplied fully assembled.