The Barcelona is a hexagonal planter made from recycled plastic. The inside of this solid flower box is reinforced with metal corners, and its bottom has drainage holes. The Barcelona comes with or without legs.
Barcelona flower boxes and planters are ideally suited for public spaces like streets, thanks to their extensive list of advantages. They are waterproof and uv-resistant, splinter-free and rot-proof (dry rot is history!), graffiti-resistant and easy to maintain. The plastic is coloured throughout, so it's sure to retain its original colour and appearance.
Andes Green
Quartz Brown
Ural Black
Sand Beige
Mineral Grey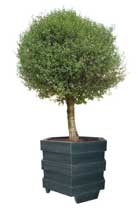 several dimensions available :
Ø 90 or  Ø 120 cm
height : 36, 60 or 84 cm
Planter with legs: height + 12 cm
Useful planting depth without legs: height – 11 cm
Useful planting depth with legs: height – 23 cm
Material : the material is made of 100% high quality recycled plastic residue. It is composed of LDPE, HDPE and PP.
Assembly : the planter is supplied fully assembled
Anchorage : the planter can be anchored on a hard surface (e.g. pavement) with 1 anchorage set (optional)
Legs : yes
Technical data sheet : available (see downloads)
.