A super practical bench for a tidy playground. On this bench you can sit safely and at the bottom there is enough storage room for boxes or crates for toys, or for bags and bookbags during playtime. No more toys or balls or sports bags lying around!
The bench must be placed on a flat surface under a canopy.
Suitable for 2 sturdy Euronorm trays 40 x 60 x H 30 cm.
Coupling: the storage benches are supplied with screws to connect them to eachother. The holes are already pre-drilled on one side.
Optionally, beautiful green plates (ornaments) can be used as finishing touches to fix them to the sides. These are delivered separately including screws.
Delivery : The storage bench is delivered assembled.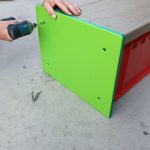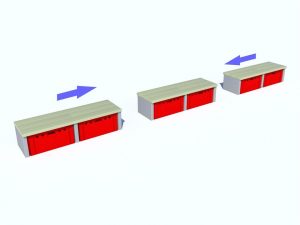 L 139 x B 45 x H36 cm
weight +/-40 kg