Govaplast's solid stable sheets are ideally suited for (temporary) industrial or agricultural applications, such as horse stables and other stable structures. They are high quality, UV-resistant, slightly stiff and can be welded. Our stable sheets are available in two colours.
Have your pick from our three collections:
Govaplast Sheets Standard is a mix of LDPE and HDPE thermoplasts.
Govaplast Sheets Standard Plus is stiffer than Govaplast Sheets Standard en has a lower extension coefficient.
Govaplast Sheets HDPE is made purely of HDPE regranulate and is the most sturdy. HGPE sheets can be welded.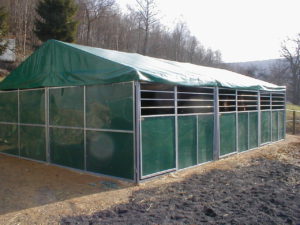 1500 x 3000 mm, some 1220 x 2440 mm
Thickness : from 4 to 18 mm
The most common sheets are on stock, other dimensions and qualities are on demand.