Are you looking for a classic and classy planter to add a unique touch to the street or city park? Should it be large enough to fit a tree? The Versailles is a large, solid, square planter that is perfect for significant-sized plants or even trees. This planter is available in different colours and sizes (up to 125 centimeters in length and width). Its internal corners are reinforced with metal angle brackets and its bottom has drainage holes.
The Versailles is waterproof, uv-resistant, maintenance-free and it doesn't rot or splinter. The recycled plastic is coloured throughout and graffiti-resistant.
Andes Green
Quartz Brown
Ural Black
Sand Beige
Mineral Grey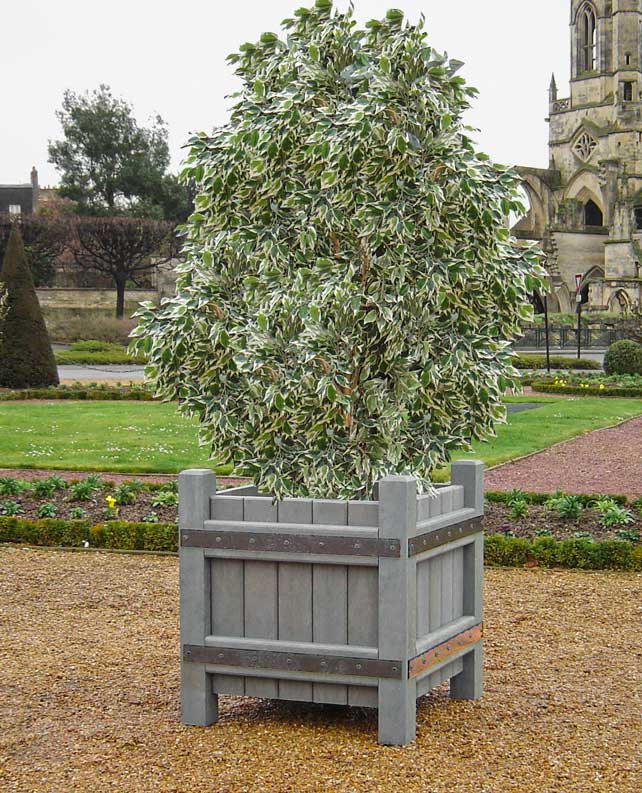 several dimensions available :
length : 105, 125 or 125 cm
width : 105, 125 or 125 cm
height 110 cm
useful planting depth : 77 cm
Material : the material is made of 100% high quality recycled plastic residue. It is composed of LDPE, HDPE and PP.
Assembly : the planter is supplied fully assembled
Anchorage : the planter can be anchored on a hard surface (e.g. pavement) with 1 anchorage set (optional)
Legs : yes
Technical data sheet : available (see downloads)