The Oslo picnic table's classic design stands out from the crowd thanks to its typical A-shaped legs. Unlike its wooden counterparts, this recycled plastic table is rot-proof, splinter-free and easy to maintain. What's more, its table top and seats are metal-reinforced, so they can take a pounding.
This picnic table is available in several variations which are all suitable for use in parks, playgrounds, schools, restaurants and business parks.
The Oslo XL has a protruding table top that makes the design wheelchair accessible.
The Oslo Mensa's table top and seats are closed, so no food or small items can fall through the boards. This makes the Oslo Mensa the perfect companion for any snackbar, diner, restaurant, school or university canteen.
The Oslo Campus' table top is 15 centimeters wider than that of the standard Oslo, creating more space for laptops, books and stationery. In other words, this picnic table is just right for schools and universities.
The Oslo Junior was designed especially for children. It's a kids picnic table that's kids size: the Oslo Junior is only 55 centimeters high and 120 centimeters long.
Andes Green
Quartz Brown
Ural Black
Sand Beige
Mineral Grey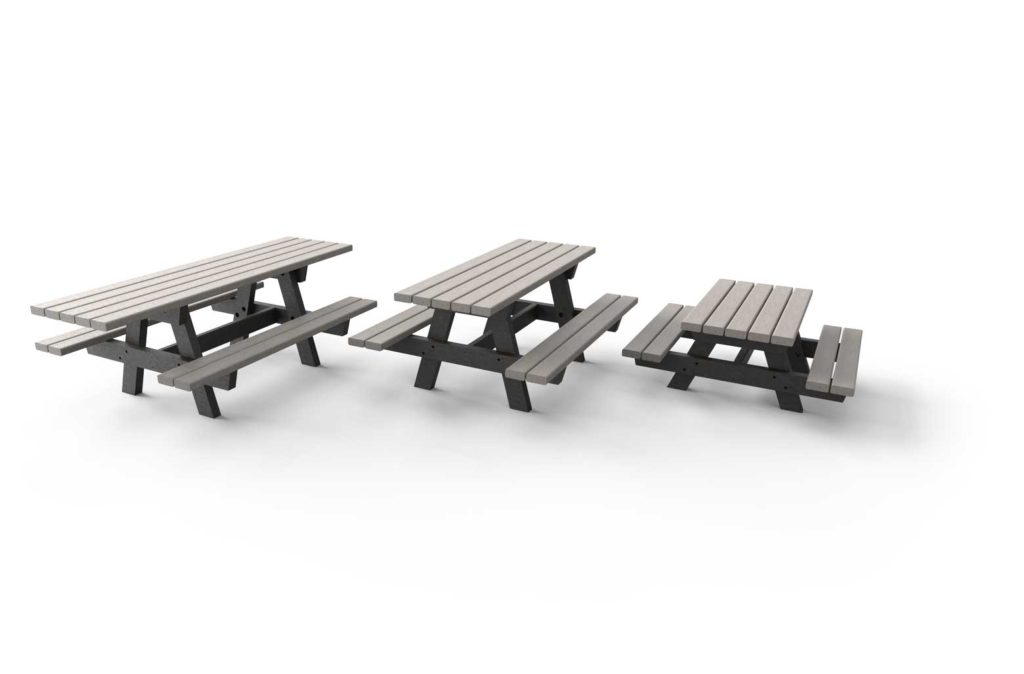 Oslo : length 180 cm X width 140 cm X table height 76 cm (154 kg)
Oslo XL – Wheelchair Accessible : length 240 cm X width 140 cm X table height 76 cm (180 kg)
Oslo Mensa : length 180 cm X width 156 cm X table height 76 cm (width 65 cm)  (164 kg)
Oslo Campus : length 180 cm X width 170 cm X table height 76 cm (180kg)
Oslo Junior – Children's Model : length 120 cm X width 135 cm X table height 54 cm (83 kg)
Option : extended legs for anchorage in loose ground + 40 cm
Anchorage on hard surface with threaded bars.