GP43 : Playhut , 2 sides open, 2 benches included, made of recycled plastics and brightly coloured parts made of virgin PE sheet. With small flower details. TÜV certified.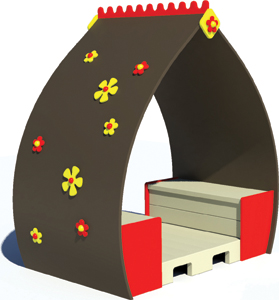 166 x 116 x H176 cm, +/- 222 kg
It can be installed without anchorage on a stable and solid surface. When installed on soft landscaped ground the optional anchorage is recommended. (see manual)
As the fall height is less than 60 cm, a shock absorbing safety surface is not obligatory.
The playhut is supplied fully assembled and can easily be moved with a standard pallet-truck.